PLUMBING SERVICES
Sexson Mechanical provides qualified, licensed, and highly trained UA (Local 440) professional team members to meet all your Plumbing needs.  We provide a full range of diagnostic services and preventative maintenance programs to keep our customers plumbing systems running smoothly.  Our team of experienced plumbers services businesses across the city and surrounding areas. We boost our team's skills with the latest technology to locate the problem that allows us to complete repairs promptly, so you can resume your business operations quickly.
SEWER JETTING SERVICES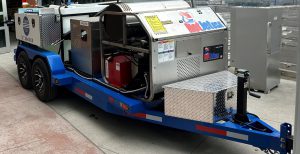 Hydro jetting utilizes highly pressurized water (up to 4000 PSI) to break up and remove grease, sludge, and other debris from your sewer lines. Highly pressurized water can safely and effectively clear most obstructions. Traditional snaking is an effective option for pipe clearing but it does not clear and clean pipes like hydro jetting can. Routine maintenance on sewer mains can reduce costly emergency calls!
SERVICES:
Backflow Prevention Certifications, Inspections & Repairs
Smoke Testing
Leak Detection
Water Heater Replacement
Water Softeners
Faucet and Fixture Replacements
Winterization Services
ADA Compliance Upgrades
Water & Sewer Locations Services
Sewer Camera Inspections
Underground Sewer Line Repair & Replacement
Sewer Jetting
Who to Contact
Jason Whittemore
Plumbing Service Manager
[email protected]
317-884-0010 ext 120
Kyle Frederick
Plumbing Service Account Manager
[email protected]
765-315-8134